Festive season at Zhukovsky, business as usual.
In Western Europe, almost all professional activities come to a halt between Christmas and New Year. Not so in the Russian Federation. The traditional Russian holidays are New Year, and a fortnight later Old New Year. The latter is an informal holiday, celebrating New Year by the Gregorian calendar. This shift in festive seasons between both cultures and regions represents a great opportunity to visit the Russian Federation and some interesting, busy places like Zhukovsky, also known as Ramenskoye Airport. At present, this airfield serves as an important aircraft testing facility where most of the major Russian aircraft design bureaus are having facilities. In the near future, however, it will also give relief to Moscow's increasingly busy Sheremetyevo, Domodedovo and Vnukovo airports. In 2011, the then Russian primeminister Vladimir Putin proposed to convert Ramenskoye into Moscow's fourth airport, housing all charter and low-cost flights. While construction work on new terminal buildings and additional taxiways progressed well during the festive season, flight testing continued as usual.
The new 14 metric ton Aviadvigatel PD-14 (ПД-14) advanced turbofan engine made its maiden flight at the Gromov Flight Research Institute in Zhukovsky on 3 November 2015. It was flown on the port inboard No.2 pylon of propulsion test bed aircraft Ilyushin Il-76LL4 RA-76529 (s/n 073410308). The engine is earmarked to power the Irkut MS-21 (MC-21 or Магистральный Самолёт XXI века, Important Aircraft of the 21st Century), a family of new Russian short and medium haul jet airliners for 130 to 211 passengers.
RA-76529 is one of a total of seven Il-76T transport aircraft converted into Il-76LL flying laboratories (Летающая Лаборатория or ЛЛ) for engine test purposes. The aircraft made a two hour test flight from Zhukovsky on 28 December 2015. It was completely stripped of its previous Aeroflot colour scheme and only carried the abbreviated registration 76529 and the logo of the Gromov Flight Research Institute (Летно-Исследовательский Институт имени М. М. Громова or ЛИИ).
Zhukovsky is Moscow's main operating base for Russia's Ministry of Emergency Situations (Министерство по Чрезвычайным Ситуациям or МЧС). At least one An-72, one Be-200, one Il-62, five Il-76s and two Tu-154s were parked on one of Zhukosvky's aprons during the end of the year period. Il-76TD RA-76363 (s/n 1033417540) and Antonov An-148-100EM RA- 61715 (s/n 27015042015) were seen on 28 December.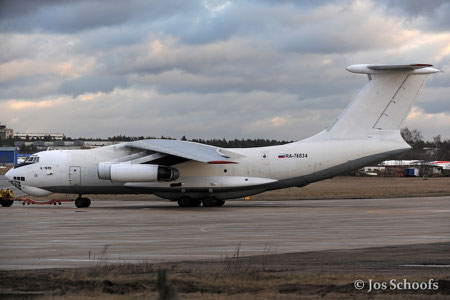 Ilyushin Il-76TD RA-76834 (s/n 0093499986) of Aviacon Zitotrans (Авиакон Цитотранс) is regularly seen in Zhukovsky transporting entire aircraft and helicopters or subassemblies from and to production plants or customers. Aviacon Zitotrans was established in 1995 in Yekaterinburg and operates six Il-76TD transport aircraft, which are based at the city's Koltsovo international airport. The company is specialised in moving heavy, outsize and delicate cargo and its Il-76s can carry for example a pair of partly disassembled Mil Mi-8 helicopters.
Hong Kong based Lectern Aviation Supplies Ltd ordered a single Mi-26TS from Russian Helicopters in 2014. The heavy-lift helicopter made its first flight in October 2015 and will be operated in forestry management in China's Shandong province. It was seen at Zhukovsky on 24 December 2015 when it performed a test flight in a uniformly grey colour scheme and carrying the three last digits of its serial number 34001212622.
When 622 will be delivered in 2016, it will become the fourth civilian operated Mi-26 in China: two are in Qingdao Helicopter's fleet and a third is operated by Flying Dragon.
The Federal Service for Hydrometeorology and Environmental Monitoring of Russia (Федеральная служба по гидрометеорологии и мониторингу окружающей среды России - Росгидромет or Roshydromet) oversees the research and monitoring work on changes in meteorological and other geophysical processes on the territory of the Russian Federation. To carry out atmospheric research and monitoring, Roshydromet's Central Aerological Observatory operates a single Yak-42D flying laboratory (RA-42440, s/n 4520424210018). With more than 100 sensors and an extensive suite of on-board scientific instruments, it can monitor the atmosphere's thermodynamic and geophysical parameters, gas and aerosol composition, radioactive contamination, etc. The aircraft is also equipped with a dispersion device for 1,024 anti-cloud reagent cartridges.
The aircraft was built at the Saratov Aviation Plant in 2002 and operated by the South-Africa based Aerolift Company as 9L-LDT and by Tulpar Air as RA-42440. The Myasishchev Design Bureau transformed it into a flying laboratory between 2011 and 2013.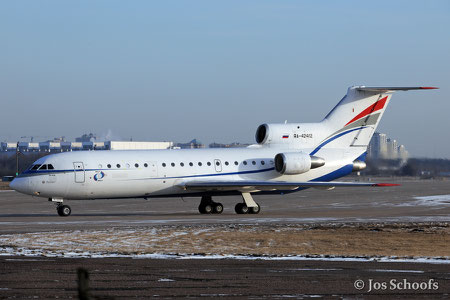 The Moscow Vnukovo-3 based Air Company RusJet (Авиакомпания РусДжет) offers domestic and international VIP flights with a number of Airbus Helicopters and Bell helicopters as well as Bombardier, Embraer and Yakovlev business jets. RA-42412 (s/n 4520422219055), one of RusJet's three Yak-42Ds, arrived at Zhukovsky on 29 December, possibly for maintenance or modification purposes.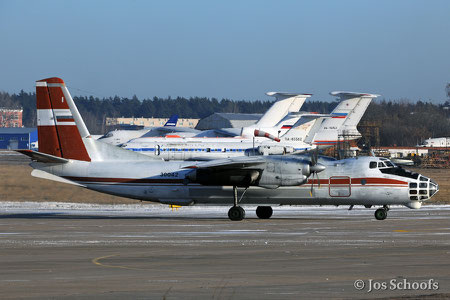 Flight Inspections and Systems (Летные Проверки и Системы) is a private Russian company specialised in the inspection and calibration of ground-based aircraft communications, navigation and surveillance systems. To that end, it currently operates a fleet of specialised aircraft (Автоматизированная Система Лётного Контроля, Automated Flight Inspection System) consisting of a single An-24, six An-26s, a pair of Yak-40s and since March 2014 this An-30 RA-30042 (s/n 0901). The aircraft performed a pair of training flights with two different crews at Zhukovsky on 29 December. The company not only operates in the Russian Federation, but also serves clients in Africa, Asia and the Middle-East.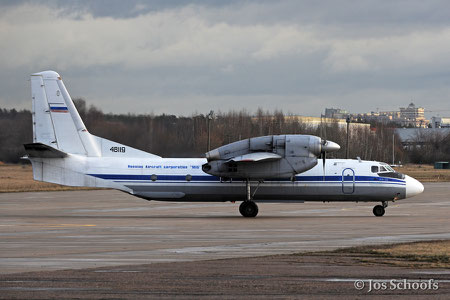 48119 (s/n 2209) is an Antonov An-32A operated by the Russian Aircraft Corporation "MiG" (Российская Самолетостроительная Корпорация «МиГ»). The company is an official prime contractor of the Ministry of Defense of the Russian Federation and is at present mainly working on the MiG-29 derivatives MiG-29K/KUB, MiG-29М/М2 and MiG-35. It operates a single Yak-40, An-12BK and An-32A as well as a pair of Mi-8T(V)s for testing and communications purposes. 48119 was built in 1989 and is serving with RAC "MiG" since 2006. It flew from Zhukosvky on 24 December.
Zhukovsky not only is a test base for experimental, newly developed, modified or upgraded aircraft, but also serves to perform test and acceptance flights of Russian built production aircraft. At present, much pre-delivery acceptance work is done on Sukhoi Superjet 100 airliners. Tupolev Tu-204-100 RA-64017 (s/n 1450742564017) of the Russian low-costoperator Red Wings Airlines made a test flight on 24 December. It is Red Wings' only aircraft flying in a non-standard colour scheme. RA-64017 flew for different Russian airlines and joined the Red Wings fleet for the first time in 2008. In 2009, it was transferred for one year to Aviastar-TU (Авиастар-ТУ) and repainted in the colour scheme it still is wearing today.
An affiliate of the JSC Tupolev at Zhukovsky is at present upgrading a number of Tupolev Tu-95MS "Bear-H" cruise missile carrying strategic bombers. According to the United Aircraft Corporation, 8 upgraded aircraft were delivered to the Russian Air Force in 2014 and at least 10 were to follow in 2015-2016. The upgrade comprises mainly new avionics as well as improved radio communication and navigation equipment. The installation of four underwing pylons and a target-acquisition/navigation system based upon the GLONASS global satellite navigation system (ГЛОНАСС, ГЛОбальная НАвигационная Спутниковая Система) allows the aircraft to carry and launch up to 8 Raduga Kh-101 conventional or Kh-102 nuclear long-range cruise missiles, making it a credible deterrent for at least one more decade.
The upgrade programme was still proceeding at a high pace late December. Just prior to sunset on 28 December, Tu-95MSM RF-94197 (55 Red) took off from Zhukovsky to return most likely to its home base Engels where it had been flying before its arrival in July. After its upgrade and subsequent flight testing, the aircraft received an immaculate light grey colour scheme with only the lower parts of the engine cowlings painted in white and the fin fillet and leading edge in a kind of greenish dark grey. When the aircraft arrived at Zhukovsky in July, it carried the type's standard bare metal colour scheme. Another "Bear-H" undergoing the MSMupgrade is RF-94199 (57 Red). It made a 3.5 hours long test flight on 24 December. Note the five red stars under the main port side cockpit window, marking just as much missiles launches.
The Yakovlev Yak-130 "Mitten" was selected by the Russian Air Force in 2002 to replace its Aero L-29 Delphin (NATO reporting name "Maya") and Aero L-39 Albatros (no NATO reporting name) for basic and advanced jet training. Deliveries began in 2010 and more than 60 have been delivered to date. Algeria and Belarus are export customers with 8 and 16 aircraft respectively. The Yak-130 has as glass cockpit and a programmable fly-by-wire flight control system allowing replicating the flight characteristics of various Russian 4th and 5th generation aircraft. Development and flight testing continue at Zhukovsky with among others aircraft serial number 131/02, which made a test flight of an hour on 24 December. Note the closed air intakes to avoid foreign object damage (FOD) to the engines on the ground and the open auxiliary air intakes on top of the fuselage.
In the combat trainer and light attack roles, the "Mitten" can carry a combat load of up to 3,000 kg on nine hard points. The offensive weapons suite comprises among others rocket pods for S-8 (80 m) and S-13 (122 mm) unguided rockets, OFAB-250 (250 kg) bombs and SNPU-130 pods with a 23 mm GSh-23L double-barrelled cannon. An aircraft with an adapted nose to house a laser designator/TV sight for the use of laser- or TV-guided smart bombs was shown at MAKS 2015. For self-defence, the aircraft can carry Belorussian Defense Initiatives "Talisman" ECM pods and Vympel R-73E air-to-air missiles (NATO reporting name "Archer"). The type's combat radius can be extended with a pair of PTB-450 external fuel tanks for 450 kg of fuel on the inner (wet) pylons.
At MAKS 2015 it was announced that a total of 12 Yak-130's was ordered to equip a new Russian Air Force display team that was formed at the Borisoglebsk Aviation Training Centre near Voronezh in May 2014. It is named "Wings of Taurida" (Крыля Таврады) after the ancient region of the Russian Empire south of the Dnieper River and including the Crimean Peninsula.
The second production Sukhoi Su-30 597 Blue outline (s/n 79371010102) is still flying as a test and development aircraft at the Gromov Flight Research Institute (Летно- Исследовательский Институт имени М. М. Громова – ЛЛИ) in Zhukovsky of which it carries the logo on the tail fins. Together with Su-27P 595 White and Su-30 596 White, the aircraft gained fame as 597 White in its red, white and blue colour scheme of the aerobatic Test Pilots Team (Лётчики-испытатели) led by Anatoly Kvochur. In the 1990s, the team performed in numerous countries in Europe and Asia. The recently repainted aircraft flew on 28 and 29 December.
The 929th Chkalov State Flight Test Centre of the Ministry of Defence (929-й Государственный Лётно-Испытательный Центр Министерства Обороны имени В. П. Чкалова - ГЛИЦ) was established in 1920 and celebrated its 95th anniversary in 2015. As it is responsible for operational flight testing of new military aircraft and helicopters and as many new types will be introduced in the Russian Air Force in the near future, General Bondarev, Commander of the Russian Aerospace Forces, announced last September that the 929th State Flight Test Centre will be expanded to be able to cope with this extra work.
Since late this summer, Sukhoi Su-34 "Fullback" 35 Red was temporarily based at Zhukovsky and returned back home to Akhtubinsk, Astrakhan Oblast, on 28 December. Note the test centre's logo on the fuselage behind the cockpit.
The Chinese People's Liberation Army Air Force (PLAAF) is at present receiving the last of a batch of 10 Ilyushin Il-76MDs (NATO reporting name "Candid") that have been refurbished by OJSC "Il" at Zhukovsky in order to prolong their initial intended lifetime of 30,000 flying hours, 10,000 flight cycles or 20 years to up to 40 years. The 20 to 25-year-old aircraft are the PLAAF's former B-4030 to B-4039 and are delivered with the new registrations 21041 to 21049 and 21140. The former B-4038 (s/n 1033417567) was seen on 28 December with the temporary Russian registration 78691, covering almost entirely its future PLAAF registration number 21049.
In addition to the batch of 10 Chinese Il-76MDs, the refurbishment of another 10 Il-76MD/TDs from the secondhand market has been completed in 2015 by the 123rd Aircraft Repair Plant (123 Авиационный Ремонтный Завод – 123 АРЗ) in Staraya Russa (Старая Русса), Novgorod Oblast. These aircraft were operated previously by Atruvera (Атрувера, Belarus), Hunair (Hungary), Rus (Русь, Russian Federation), TransAviaExport (ТрансАвиаЕкспорт, Belarus), Uzbekistan Airways (Uzbekistan) and the Belarusian Air Force. After refurbishment at the 123 ARP, the aircraft are transferred to Zhukovsky for testing and acceptance flights.
Flight testing of the Sukhoi T-50 PAK FA (Prospective Airborne Complex of Frontline Aviation - Перспективный Авиационный Комплекс Фронтовой Авиации - ПАК ФА) fifth generation fighter aircraft continued at high speed during the last week of December. Every day, at least one or two aircraft performed test flights alone or as a pair.
Prototype 052 flew on 24 December with an asymmetric load of a single Kh-31 missile (NATO reporting name AS-17 "Krypton") under the starboard wing.
Prototype 053 carried calibration markings on the port side of its nose, which were applied for in flight refuelling tests.
The aircraft in the background of prototype 052 are a pair of Ilyushin Il-76MD transport aircraft converted into Article 976 (Изделие 976) Airborne Measuring and Control Aircraft (Самолетный Контрольно-Измерительный Пункт – СКИП/SKIP), which are used for airborne tracking and data collection of missiles and cruise missiles. The remains of a Tupolev Tu-16LL engine test bed can be discerned in between the two Article 976s.
Text and Photography: Jos Schoofs